The CORE Remodeling Services team of experts has many years of experience in remodeling. Our philosophy is simple. If we are professional, clean, polite and do what we say we will do (and of course provide quality craftsmanship), potential customers that expect excellent customer service will enjoy doing business with us.
The owner, Corey Plourde had been in corporate sales and management for over 25 years. Prior to that he was trained as a lead carpenter for a custom-build home contractor in Claremont, NH. Once his daughter was born in 2002 his priorities began to change. It was no longer about traveling and the next promotion; it was about being at the next school play, softball game or basketball game. After a lot of thought and wanting to follow his dream, he began to develop the business plan for
CORE

Remodeling Services, Inc.
Knowing the trades have a well-earned, poor reputation, his vision was to create a home remodeling company that provides great services with a high level of professionalism and strong
CORE
values.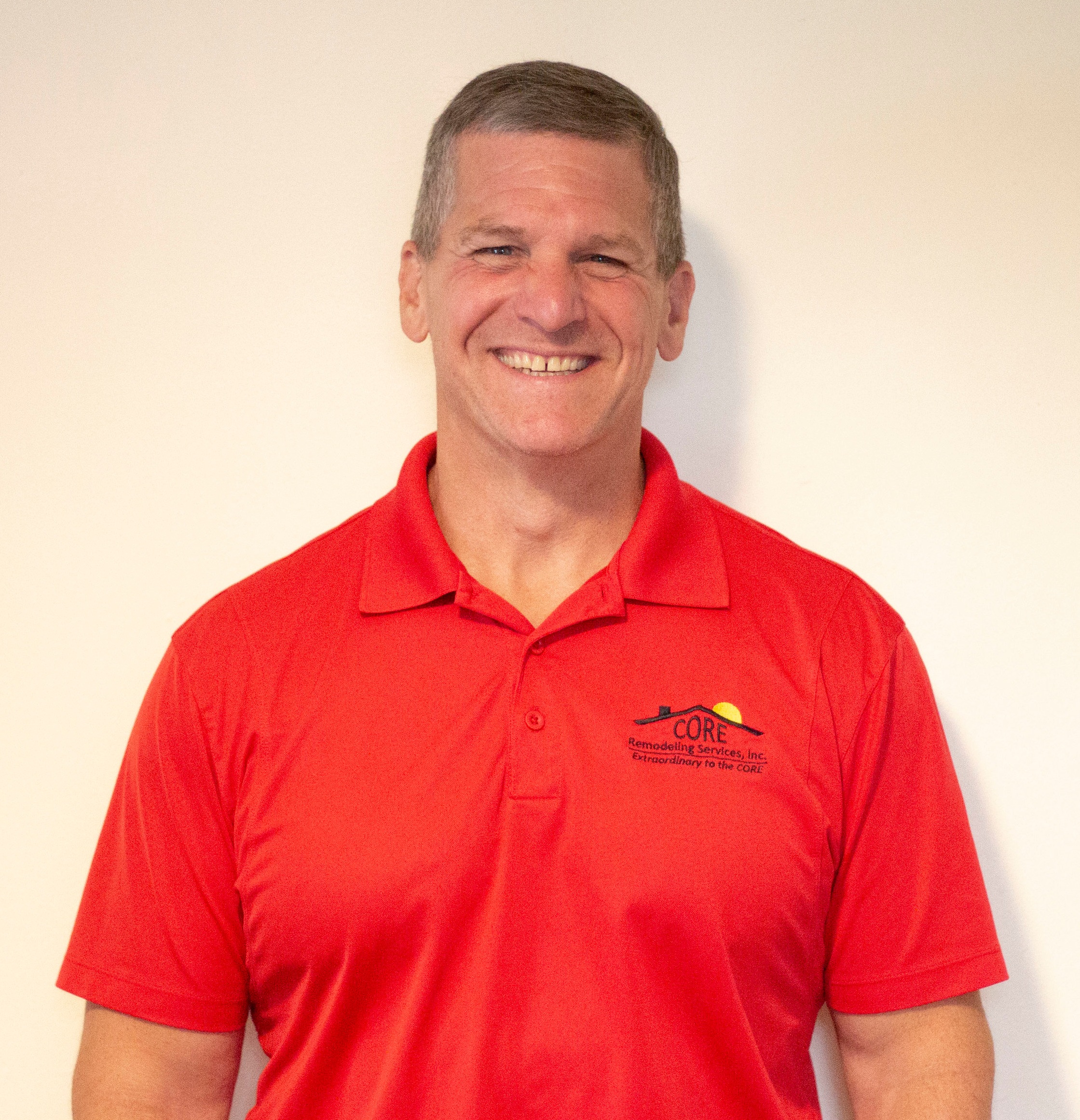 Al Abderrazzaq, is a NARI Certified Project Manager and has been involved in the construction trades for over 28 years. Al has been working with the CORE team since the spring of 2017. Al has built a great reputation for being a true professional when it comes to "home exterior projects", specializing in Windows, Doors, Siding and Roofing and general home remodeling projects. Al enjoys working with homeowners to help them get their remodeling projects accomplished. "Customer service and value to the customer" are Al's top priorities. Al has lived in Central Mass his whole life. He has been married to his High School sweetheart, Maria; for 33 years and they have 3 wonderful children who they are very proud of.  Al and Maria are also very excited that they have become first-time grandparents recently.
Eric Rogala, Project Manager is the newest member to join the CORE team. Eric has 20 + years of management experience and managerial courses. Eric served in the United States Army with advanced individual training. He has also owned his own company and built an expanded customer base through building strong customer relations and providing excellent customer service. Eric truly enjoys working with people and building strong relationships. On his time off he enjoys spending time with his wife Katie, they both are big time foodies. They also love to travel, go to concerts and boating and fishing on the lake.
Meaghan Kabaso, Project Developer, has been with CORE since Spring of 2019. Meaghan is 33 years old and has over 10 years in the administrative business side of construction. Meaghan went to school for 2 years and is Certified in legal office administration. In her free time, Meaghan enjoys karaoke and travelling for basketball competitions with her 12 year old son.
Jenna Sarosi, Administrative Assistant, has been with
CORE
since Fall of 2018. Jenna is a team player with a commitment to customer service, who possess a long track record of working in various administrative roles, coupled with good PC skills and the ability to communicate confidently at all levels. Jenna has a highly organized approach, plenty of initiative and a genuine desire to contribute to the ongoing success of the business. At the end of may she received her certificate in Entrepreneurship and Small Business Management. In the fall she will pursue her education further to receive her Bachelors in Business Administration.
When Jenna isn't working, she can be found at home with her husband, Brett, brother-in-law Blake, and daughter, Eleanor. She has a passion for photography and loves to cook for family and friends.
Ralph Bazewicz, Professional Carpenter, joined the CORE team in 2017. Ralph Graduated from the School of Building and Construction in Europe. He has 2 years' experience in remodeling and finish work in Poland and Germany. He also has 14 years of home improvement and remodeling here in the US, which includes but not limited to: roofing, siding, framing, finish work and tiling. Ralph moved from Europe to expand his knowledge of the trade and learn new construction styles in the US. He is a perfectionist and is always looking forward to the next challenge.
Mike Fluet, Professional Carpenter, has been working with CORE since the Spring of 2016. Mike has been in the home remodeling and building industry since he was a teenager, working alongside his father. He has been building and remodeling homes throughout Massachusetts ever since. He used his quality craftsmanship and built his own home. Mike attended Leominster Trade High School where he trained in drafting. He has also run his own carpentry and remodeling company employing carpenters throughout North Central Massachusetts. Mike maintains his Construction Supervisor's license and OSHA 10 Certification. In his spare time he enjoys his backyard, his six grandchildren, motorcycles, muscle cars, and watching NASCAR.
Kim Watts, professional carpenter, who has been with CORE since the spring of 2018. Kim chose a carpentry and remodeling career over 30 years ago after getting a liberal arts degree. He enjoys the challenges and satisfactions of a job well done in all its details and interacting with the client. Especially when the result provides a more beautiful, useful, enjoyable home. When not working he likes to get outside to walk, bicycle, sail and just enjoy his family. He also enjoys singing in a local band.
Bill Roy, Professional Carpenter, has been working with CORE since fall of 2018. He has 18+ years' experience in building and remodeling. He is a trade school graduate. He knew as a child that he wanted to be a carpenter while helping his uncle at his roofing and siding Construction Company. Bill was eager to learn more in the carpentry field so he began working for a general contractor and he learned all aspects of the building trade from framing to finish work. He has worked in both residential and commercial construction. Bill was raised on a horse farm where spent a lot of time fishing and being outdoors. In his spare time he enjoys mechanic work, spending time with his family, water sports and especially time at the beach.
Don't wait, call us today at
1-888-959-2673
(CORE)

contact us here.

We are a top ranked Home Remodeling Company in Worcester Massachusetts.